Search athletes:
Athlete profile: Ragnhild Hjermstad
NOTE! Athlete background is outdated, last updated 2016-07-05 01:40:13
Born and raised in Fossum IF outside Oslo. On top both in foot-orienteering and in ski-orienteering with medal from the junior world championships ski-orienteering. Moving from to Trondheim the fall of 2016 to study to become an engineer. Norwegian junior championships medals: Bronze medal sprint 2016, bronze middle and night 2015, silver relay 2014 and 2015. Ski-orienteering medals: Bronze in JWSOC relay 2015. Won the Norwegian Cup in Ski-O 2015. Several individual medals from Norwegian Champs for Juniors and one individual bronze from the Senior Champs.
Junior World Orienteering Championships (JWOC)
Other international results
Ragnhild Hjermstad is found under the following names:
Ragnhild Hjermstad (4 times) .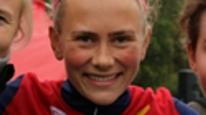 Maps from Omaps and 3DRerun