Search athletes:
Athlete profile: Oskar Stormer
Athlete background info last updated 2016-07-05 00:52:00
Born into a hardcore orienteering family, was sent out into forest at the age of 3. Went to sports school in both middle and high school, and is currently studying mathematics and programming in Oslo because that's where the best training conditions are. Has a personal record of 8:55 on 3000 m, which is thanks to a lifetime of various kinds of hard training. Likes pushing himself way too hard. Has 4 Norwegian championship medals in the junior class as of spring 2016: Silver ultralong 2015, silver relay 2015, bronze - sprint 2016, bronze middle 2014.
Junior World Orienteering Championships (JWOC)
2016, Relay, Engadin, Switzerland

Best for each discipline:
Long: 50. place 2016, Engadin, Switzerland
Middle: 12. place 2016, Engadin, Switzerland
Sprint: 32. place 2016, Engadin, Switzerland
Relay: 5. place 2016, Engadin, Switzerland

[Click to show all JWOC results]
Other international results
Oskar Stormer is found under the following names:
Oskar Størmer (1 times) Oskar Stormer (4 times) .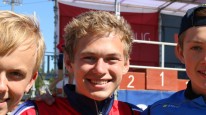 Maps from Omaps and 3DRerun