Search athletes:
Athlete profile: Michael Svoboda
Athlete background info may be outdated, last updated 2016-07-04 20:31:11
National results: North American Championships 2012 Gold in Middle in M17-18. Canadian Championships 2013 Gold in Sprint in M20. North American Championships 2014 Bronze in Sprint in M20. Started orienteering in 2008.
World Orienteering Championships (WOC)
2019, Middle, Ostfold, Norway

Best for each discipline:
Middle: Q29. place 2019, Ostfold, Norway

[Click to show all WOC results]
World Cup (WC)
2015, WC no. 4, Halden, NOR, Long

[Click to show all WC results]
Junior World Orienteering Championships (JWOC)
Other international results
Michael Svoboda is found under the following names:
Michael Svoboda (25 times) .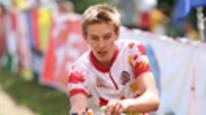 Maps from Omaps and 3DRerun