Search athletes:
Athlete profile: Line Cederberg
Athlete background info last updated 2016-07-03 16:17:22
International debut with JEC 2015 in Germany - first JWOC in Switzerland in 2016. Been practising orienteering all her life. Lives in Sweden with her Danish mum and Swedish dad and two siblings. Graduated from high school summer 2016. Master in engineering in Gothenburg from autumn 2016.
World Cup (WC)
2018, WC no. 8, Ostfold, NOR, Middle

[Click to show all WC results]
Junior World Orienteering Championships (JWOC)
Other international results
Line Cederberg is found under the following names:
Line Cederberg (13 times) .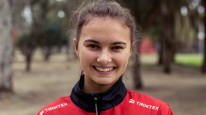 Maps from Omaps and 3DRerun