Search athletes:
Athlete profile: Jan Erik Naess
Athlete background info last updated 2016-07-04 20:34:53
Jan Erik started orienteering late - at the age of 16. His first start was in the summer of 2014 when he went to Calgary for the Canadian Chapionships and won two Golds and a silver in M16. In the fall of 2014 he went to the North American Championships and raced in M20 for the first time, coming 5th in the sprint which helped earn himself a spot of the Canadian Junior World Orienteering Team. In the summer of 2015 he went to JWOC and had his first international races.
» Show full text
Junior World Orienteering Championships (JWOC)
Other international results
Jan Erik Naess is found under the following names:
Jan Erik Naess (18 times) .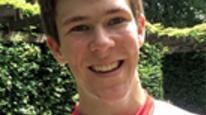 Maps from Omaps and 3DRerun