Search athletes:
Athlete profile: Jakub Glonek
Athlete background info may be outdated, last updated 2016-07-05 01:52:38
Started training for real at the age of 17, and has two medals from Czech sprint championschip - silver (2015) and gold (2016).
World Cup (WC)
2018, WC no. 11, Prague, CZE, Sprint

[Click to show all WC results]
Junior World Orienteering Championships (JWOC)
Other international results
Jakub Glonek is found under the following names:
Jakub Glonek (5 times) .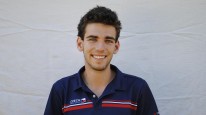 Maps from Omaps and 3DRerun