Search athletes:
Athlete profile: Colm Moran
NOTE! Athlete background is outdated, last updated 2014-07-02 21:48:44
Competed internationally at junior level for Ireland at EYOC, and JWOC, twice each. Spent the 2011-12 academic year living in Hallsberg, Sweden, training with OK Tisaren - then moved to Dublin studying engineering, and trying to increase training to become more competitive internationally.
World Orienteering Championships (WOC)
European Orienteering Championships (EOC)
World Cup (WC)
2015, WC no. 8, Inverness, GBR, Middle, WOC

[Click to show all WC results]
Junior World Orienteering Championships (JWOC)
EYOC (EYOC)
Note that some EYOC results may be missing.
2008, Long, Solothurn, Switzerland

Best for each discipline:
Long: 81. place 2008, Solothurn, Switzerland
Sprint: 90. place 2008, Solothurn, Switzerland

[Click to show all EYOC results]
Other international results
Relays:
2012: Jukola 2012, 132. place (5. leg, Out: 165. place, In: 172. place, OK Tisaren 3)

IOF World Ranking:
World Ranking position: Middle/Long 1181 / Sprint 1543 (as of 17/5/2022)
See also all IOF WRE results for Colm Moran including updated WR position

Colm Moran is found under the following names:
Colm Moran (20 times) .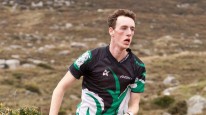 Maps from Omaps and 3DRerun