Search athletes:
Athlete profile: Agnes Kracht
Athlete background info may be outdated, last updated 2016-07-04 23:28:53
First JWOC participation in 2016, but participated at EYOC both in 2015 (Silver in relay) and 2014 (15th at long distance). Finished 4th overall at O-Ringen 2015. Agnes has (because of her family) been running orienteering her entire life.
Junior World Orienteering Championships (JWOC)
Other international results
Agnes Kracht is found under the following names:
Agnes Kracht (16 times) .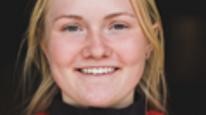 Maps from Omaps and 3DRerun